Next course: Starts Tuesday 25th October, 7:00pm – 8:30pm
The course will then continue on the following 4 weeks at the same time, 1st Nov, 8th Nov, 15th Nov and 22nd Nov.
An additional field trip, visiting alongside an existing workplace chaplain will be arranged nearer the time for each course attendees, according to locality.
Online training course
For to anyone (lay or ordained), who may be thinking of becoming a workplace chaplain or who wishes to know more about this important ministry in reaching out and offering support to people in their place of work. You do NOT have to be a member of WCM UK to attend.
Workplace Chaplaincy teams are encouraged to use this course as basic training for all new chaplains, for those enquiring about chaplaincy, or for current chaplains who might benefit from a short refresher course.
The 5-session course will be held online via Zoom and will be repeated regularly, roughly every six months.
This course will equip you with the skills to become a workplace chaplain offering care, support and encouragement to those at work, providing an introduction to workplace chaplaincy from a Christian viewpoint.
Workplace chaplains visit people at work, in a great range of industries and workplaces. Chaplains are motivated by their faith in God who cares and wills all things be transformed and renewed by His love and life. By this simple ministry of presence chaplains seek to promote work practices which are fair, equitable, sustainable and give dignity to all. A chaplain questions, celebrates, encourages and cares for all they meet, whether or not they are people of faith.
Most workplace chaplains are volunteers who give a few hours a week, visiting a number of local workplaces regularly. Chaplains usually work in local teams, which are invariably ecumenical, with chaplains drawn from a range of churches.
The 5 sessions cover:
Why be a workplace chaplain?
The chaplain as presence and pastor
Understanding the context of chaplaincy
The chaplain as critical friend
Chaplaincy and the church
The cost of the 5-week course will be £50:00 per person.
(Please get in touch if the cost is a barrier to joining in, as we do not wish to exclude anyone due to affordability.)
Field Trip
Where feasible, an additional practical session will be arranged to a local piece of chaplaincy where course participants will have the chance to meet chaplains and visit with them. Where this is not possible in person, a similar meeting with a chaplain will be arranged online.
If you would like to discuss this course further please email or phone 07946 655450.
This course is being run by WORKPLACE CHAPLAINCY MISSION UK.
To register your interest in the course, please complete the form below.
---
For teams who wish to deliver the Introduction Course themselves…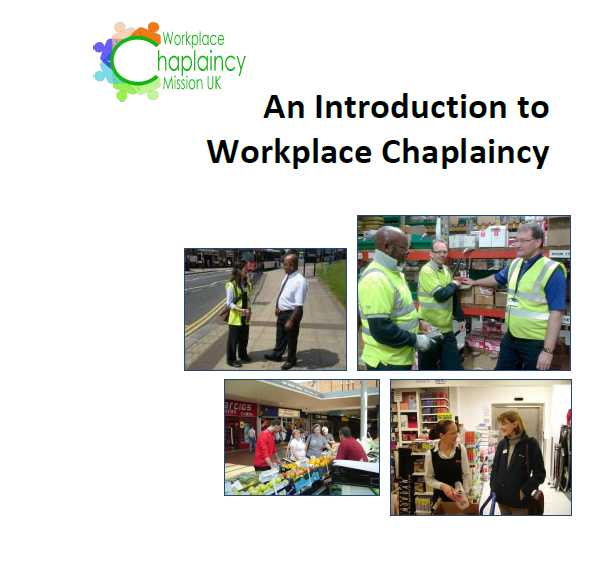 We can advise Workplace Chaplaincy Teams on how to:
set up a Workplace Chaplaincy
organise a Chaplaincy Team
train volunteers for Chaplaincy
A sample of our Training Course for Chaplaincy Volunteers is available here
Please email Revd Dick Johnson to be sent the full course material.